Tupelo Press July Open Submission Period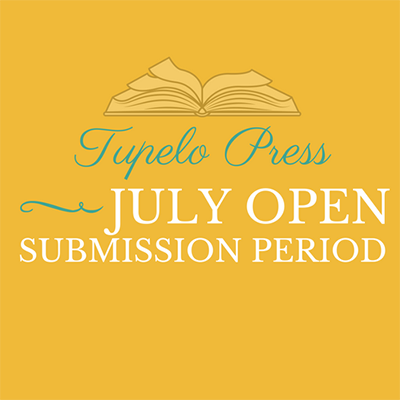 Submission period: July 1-31, 2017 (postmark or online-submission date)
Throughout the month of July, Tupelo Press is holding open submissions for book-length poetry collections (48-90 pages) and chapbook-length poetry collections (28-47 pages), and manuscripts of any length of English poetry translations from any language.
Submissions are accepted from anyone writing in the English language (whether in the United States or abroad). A reading fee of $30 (U.S.) must accompany each submission. Include a cover page with the title of your manuscript, your name, address, phone number and email address.
Our online submission manager, Submittable, will be accepting poetry manuscripts between July 1 and July 31, 2017. We also accept manuscripts via postal mail. Your manuscript must be postmarked between July 1 and July 31, 2017 and sent to:
Open Submissions
Tupelo Press
P.O. Box 1767
North Adams, MA 01247
If you are submitting a paper manuscript, include two cover pages: one with the title of the manuscript only, the other with title of manuscript, name, address, telephone number, and email address. Cover letters or biography notes are optional. Include a self-addressed stamped postcard to confirm receipt of your manuscript, and a self-addressed stamped envelope if you'd like notification of July Open Submission Period results. An email announcement will also be sent to all entrants.
Read the complete guidelines before submitting your manuscript:
https://www.tupelopress.org/july-open-submission/
Please enjoy this selection by Lillian-Yvonne Bertram, who first came to Tupelo Press through the July Open Submission Period with her winning collection, Personal Science (Tupelo Press, 2017). For more information about Personal Science, and our canon of 100+ books, please visit our website: https://www.tupelopress.org/
The gunslinger neuron
by Lillian-Yvonne Bertram

Everyone should get in touch with their inner fate

of snow afflicted by a bad case of the doldrums.

Reader, I would not live in a powderless tree: If I could

I would align myself with the powerscape.

At times I practice being sad in the mirror.

I practice a blister. My murder face.

Of what I remind myself I am not sure.

Some calypso in the distance.

Beakers of candid morning.

A snow cannot be a lie.