Tupelo Press July Open Submission Period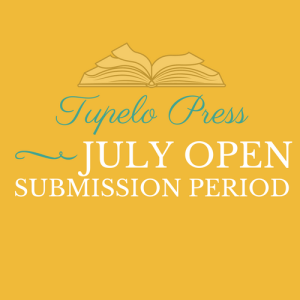 Submission period: July 1-July 31, 2018 (postmark or online-submission date)
Throughout the month of July, Tupelo Press is holding open submissions for book-length poetry collections (48-90 pages) and chapbook-length poetry collections (28-47 pages).
Submissions are accepted from anyone writing in the English language (whether in the United States or abroad). A reading fee of $30 (U.S.) must accompany each submission. Include a cover page with the title of your manuscript, your name, address, phone number and email address.
Our online submission manager, Submittable, will be accepting poetry manuscripts between July 1 and July 31, 2018. We also accept manuscripts via postal mail. Your manuscript must be postmarked between July 1 and July 31, 2018 and sent to:
Tupelo Press July Open Reading
PO Box 1767
North Adams, MA 01247
If you are submitting a paper manuscript, include two cover pages: one with the title of the manuscript only, the other with title of manuscript, name, address, telephone number, and email address. Cover letters or biography notes are optional. Include a self-addressed stamped postcard to confirm receipt of your manuscript, and a self-addressed stamped envelope if you'd like notification of July Open Reading Period results. An email announcement will also be sent to all entrants.
Read the complete guidelines before submitting your manuscript.
Please enjoy this selection by Lise Goett, who first came to Tupelo Press through the July Open Reading Period with her winning collection, Leprosarium (Tupelo Press 2018). For more information about Leprosarium, and our canon of 100+ books, please visit our website.
Postscript
by Lise Goett

If you come to this cold bowl with ladle in the moonlight
and wish to strip the old self away, on a raw, clear night,

some time go out alone, toward the end of the year,
on a solitary road, limned by igneous fires, lit micas

of snow, until you reach a pasture of cattle lowing
beneath a rocky brink on a plain of continuous light;

and listen to the primordial moan
of creatures, sturdy heads hunkered,

that seek comfort in the cold and, not finding it, wander.
Then if you are ready to be broken by a heaven that glisters

like lodestone, make a poultice of this cold starlight
that siphons the heat out of being

and rarifies it, renders it crystalline.
Let heaven anneal your heart and leave it stronger.

Tempered by suffering, if touched,
all that once inflamed you will shatter.