The Bronx Trilogy by W R Rodriguez, a North Street First Prize Winner for Poetry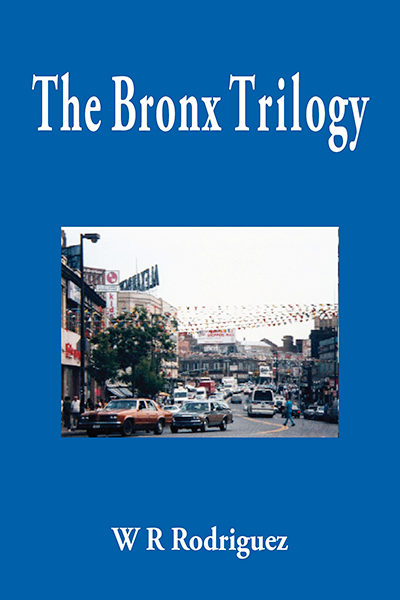 The Bronx is a worthy subject for poetry: this belief has motivated Rodriguez's writing for over four decades. Growing up with his parents' memories of the Golden Age of The Bronx, Rodriguez witnessed the borough's fall to ruin. He refers to his three books as The Bronx Trilogy. All are available on his Smashwords page.
From the Banks of Brook Avenue, the third book of the trilogy, just won first prize for poetry in the North Street Book Prize competition. Jendi Reiter's critique can be read at Winning Writers. A Kirkus reviewer wrote:
Poet Rodriguez...brings his Bronx Trilogy to a resounding, satisfying conclusion...His verse is unpretentious though never unprepossessing...Rodriguez makes room for a strand of social commentary that not only lends his writing weight and force, but also makes the collection a compelling read for New Yorkers and non-New Yorkers alike... (Kirkus Reviews)
Concrete Pastures of the Beautiful Bronx, the second book, received this commentary by Ingrid Swanberg, editor of Abraxas and of Ghost Pony Press:
These poems lyrically evoke the Bronx realities of the "promised land"—its people, ancestors, ghosts, tenements, streets, cemeteries, landlords, police, laborers, poverty, baseball, "the secrets of the land beneath the asphalt" and, above all, the joy and exuberance of the young...He expresses a patience with America, "nation of immigrants", as rare as the beauty his poetry uncovers in the slums of the Bronx.
The Shoe Shine Parlor Poems et al, the first book, was published by Ghost Pony Press in 1984. In The Bronx County Historical Society Journal, Mary Ilario wrote:
The erratic rhythm of his poems evokes images sharp as photographs. You meet the people of his world, a world filled with casual violence and brutality...No, his poetry is not at all pretty, but it is very beautiful. I think you will find it well worth reading, even if you don't like poetry.
Also available at Smashwords (free!): From the Banks of Brook Avenue: Annotated Edition
Each of the forty poems is followed by a discussion of the people, places, and events that inspired it, and the author shares previous drafts and early notes.
Read sample poems and listen to the author read them on his website.
Buy The Bronx Trilogy and the individual books on Smashwords.