Eaton Literary Awards (no fee)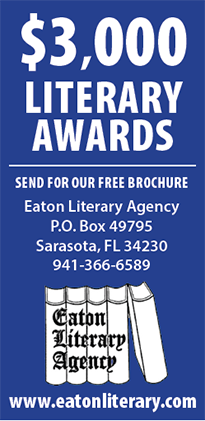 Deadline for short stories and articles: March 31, 2022
Deadline for book-length submissions: August 31, 2022
Eaton Literary Agency has been helping authors since 1984. Our Annual Awards Program attracts quality manuscripts that we can present to publishers on behalf of our authors. We award an annual prize of $2,500 for book-length work (10,000+ words) and $500 for short stories and articles (fewer than 10,000 words).
Entries may be fiction or nonfiction, and must be unpublished. To enter, please email your submission as an attachment in .doc, .docx, or .pdf format to eatonlit@aol.com. Alternately, you may mail a printed copy of your work to Eaton Literary Agency, P.O. Box 49795, Sarasota, FL 34230.
Winners will be notifed in the month after the contest deadline. For more information, please visit our website.
Testimonials from our clients:
"I have been trying for a long time to put my ideas on paper. Using Eaton Literary was the best move I have made. Richard Lawrence and his staff have been instrumental in getting me a publisher for one of my books. Mr. Lawrence has used his considerable talent and contacts in the industry to find me an excellent and generous contract with a highly respected publisher.

"He and his staff have shown a great amount of patience in dealing with my struggles. His method of having the books edited is praiseworthy. I have learned a lot from his letters and comments. A pleasure to deal with an honest man who delivers what he advertises. No false promises, no rush jobs.

"Eaton Literary spells out all requirements in their contracts and letters. Nothing is left to doubt, unlike some I have heard of. This is refreshing. I honestly believe, if given the chance, this company could represent you very well if you are able to meet their requirements."

—J.H.