DECEMBER Magazine: Curt Johnson Prose Awards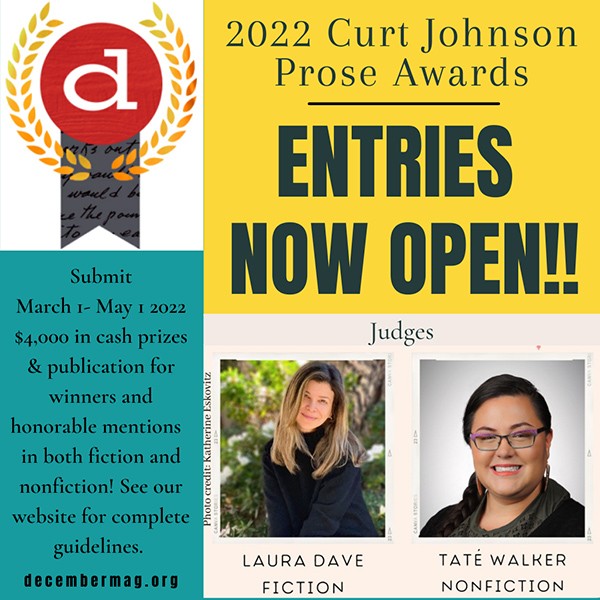 Deadline: May 1, 2022
DECEMBER MAGAZINE seeks submissions for our 2022 Curt Johnson Prose Awards in fiction and creative nonfiction. Prizes each genre—$1,500 & publication (winner); $500 & publication (honorable mention). All finalists will be listed in the 2022 Fall/Winter awards issue. $20 entry fee includes a copy of the awards issue. Submit one story or essay up to 8,000 words.
For complete guidelines and judge information visit our website.
december magazine was founded in Iowa City in 1958 by a group of poets, writers, and artists who declared, "We are humanists…far more concerned with people than dogmatic critical or aesthetic attitudes." december was a pioneer in the "little" magazine and small press movement, publishing cutting-edge fiction, poetry, nonfiction, and art. By 1962, the founding editors had left Iowa City; one of them, Jeff Marks, took december to Chicago and turned it over to Curt Johnson, an award-winning short story writer and novelist. Johnson edited and published december for the next 46 years until his death in 2008.
december's writers who published their first or very early work in the journal include:
• 5 U.S. Poets Laureate
• 6 Pulitzer Prize winners
• 8 National Book Award winners
• 3 National Book Critics Circle Award winners
• 6 state poets laureate
• 9 Guggenheim fellows
• 10 NEA fellows
• 3 Poet's Prize winners
• 5 O. Henry Award winners (totaling 10 awards)
• 2 Pen/Faulkner Award winners
• 3 Pushcart Prize winners
• 5 selections in Best American Short Stories