Love Me Tender in Midlife by Ellaraine Lockie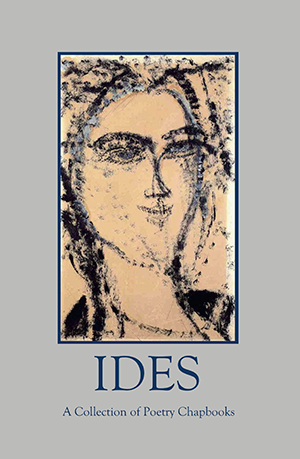 Ellaraine Lockie's new chapbook and twelfth collection, Love Me Tender in Midlife, has just been released in the chapbook collection IDES from Silver Birch Press. Love Me Tender in Midlife is her third chapbook in a series of three about women's midlife years. IDES is a 288-page book consisting of fifteen chapbooks, all fifteen pages in length and illustrated with paintings by Amedeo Modigliani.
Silver Birch Press decided to celebrate the year 2015 by asking 15 poets to each contribute 15 pages of poetry to a chapbook collection and title it IDES (released on the ides of October 2015). The result is a diverse mix of poetry by authors from coast to coast. Contributing poets hail from California, Florida, Illinois, Maine, Massachusetts, New Jersey, New York, the Carolinas, and Texas—with one from Canada.
Featured poets include Jeffrey C. Alfier, Tobi Alfier, Carol Berg, Ana Maria Caballero, Jennifer Finstrom, Joanie Hieger Fritz Zosike, Robin Dawn Hudechek, Sonja Johanson, Ellaraine Lockie, Daniel McGinn, Robert Okaji, Glenis Redmond, Daniel Romo, Thomas R. Thomas, and A. Garnett Weiss.
A wonderful holiday gift, order IDES for $15 at Amazon.
Please enjoy this poem from Love Me Tender in Midlife.
In Bed with Edgar Allan
at the Sylvia Beach Hotel

What woman would think the ending
could be so exquisitely executed
in the arms of Edgar Allan Poe
That he could be more comforting
than all those support groups
books, herbs and hormones
This man who understood loss, mourning
and madness better than any of them

Across the blood-red and black room
a stuffed raven witnesses the war
between acceptance and never-ending longing
for when life still bloomed and seeds flowered
A battle Lenore didn't live long enough to fight

My resolve swings as polemic
as the plastic pendulum with scythe above the bed
Insomnia sends me to Poe's bookshelf
Where I find a tortured prisoner
who realizes there is no choice but death
before he is snatched from its immediacy

And I am rescued with him
Anxiety lifts with the moon which spotlights
the bricked-over passage painted on the wall
Not even the tip of Fortunato's hat
squeezed from brick before his bibliophilic fate
keeps me from falling into the abyss of sleep

The circular vise of night
Hot and sweaty before the tidal wave of chills
An awakening in a pool so red and spread
that the maid will think abortion with coat hanger
Instead of a harbinger for barren
Or hell's fire flooded one final time
Cramps, craziness, leaks and stench
being what the raven meant when it said Nevermore


Each room in the Sylvia Beach Hotel in Newport, Oregon, honors a famous writer.