De Facto Feminism: Essays Straight Outta Oakland by Judy Juanita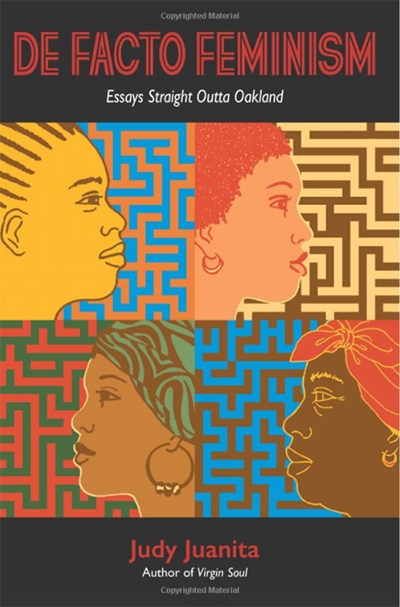 Judy Juanita's De Facto Feminism: Essays Straight Outta Oakland was featured as Book-of-the-Month at KIRKUS REVIEWS in March 2017. From the coveted starred review: "This extraordinary set of autobiographical essays gives insight into a black woman's life in the arts: everything from joining the Black Panthers to avoiding African-American chick lit."
Cait Coker, reviewing the book in The Future Fire Reviews, writes: "Judy Juanita's collection of essays De Facto Feminism: Essays Straight Outta Oakland is a mixture of previously published material from her long career in activism, including poetry, and more recent autobiographical reminiscences that relate to her 2013 novel Virgin Soul. This work does not relate to genre per se (unless we think of being Black in America today as being a dystopian experience, which, to be honest, we might well do). The sixteen essays, half dozen poems, and a collection of digital correspondence spanning from 1967 to 2015—much of which is drawn from the online magazine The Weeklings—cover expansive territory on Juanita's career as an activist and an artist: she has been a member of the Black Panther Party, has taught in the first Black Studies program in the US, and is a playwright, poet, novelist and professor. She reminds us that creative work is activism too..."
Coker continues, "De Facto Feminism: Essays Straight Outta Oakland is a thought-provoking collection, one that should be read and taught alongside such classics as Bulkin, Pratt, and Smith's 1984 Yours in Struggle: Three Feminist Perspectives on Anti-Semitism and Racism, Alice Walker's 1998 Anything We Love Can Be Saved: A Writer's Activism, and Patricia Hill Collins's 2008 Black Feminist Thought: Knowledge, Consciousness, and the Politics of Empowerment. Though the book was prepared for print and published prior to Trump's election in the US and the Resistance movement that has followed, its appearance when so many American readers and writers are struggling with how to incorporate political activism into their work makes the book incredibly timely and necessary. Art is survival, too."