Waking the Bones by Elizabeth Kirschner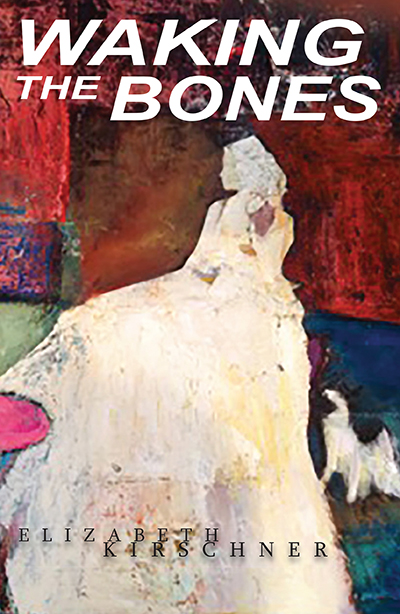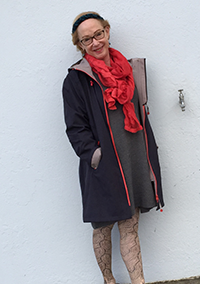 Winner of the 2015 North Street Book Prize in the category of creative nonfiction, Waking the Bones was released by The Piscataqua Press in Portsmouth, NH in 2015. A poetic tour de force, this memoir is bookended by Kirschner's years in her cottage, Sea Cabin, on Spruce Creek in Kittery Point, ME. Order your copy today from The Piscataqua Press at RiverRun Bookstore, Amazon, or elizabethkirschner.com.
"Elizabeth Kirschner is a poet of the very first order, and in this luminous, captivating memoir, she weaves poetry and prose into something transcendent and heartbreakingly beautiful. It is rare to see a writer with all their talents on display like this at one time."
~Susan Conley, author of Paris Was the Place and The Foremost Good Fortune, the latter of which was one of Oprah Magazine's Top Ten Books, a Goodreads Reader's Choice Award Finalist, and winner of the Maine Award for memoir

"Waking the Bones is a vivid and haunting memoir about love and loss; more precisely, it's powerful, lyrical testimony about how love and abuse can mingle in a deeply dysfunctional family until every emotional defense breaks down into madness and near-madness. It's also about recovery and the salvage operation that rescues sanity and makes survival, and perhaps even happiness possible. A marvelous book; I highly recommend it."
~Al Davis, author of So Bravely Vegetative and Alone with the Owl

"Waking the Bones is one of those memoirs one dreams about reading—a gutsy, shameless, prose poem of the highest lyrical order that leaves one in awe of the process and the talent put out by the author. Kirschner unavoidably raises herself above the masses by layering a kaleidoscope of childhood memories underneath and on top of her present adult self, digging down so deep in some chapters that one is relieved that the subsequent chapter brings her back up into the light. Thank goodness Kirschner is, first, a poet. Then thank goodness she decided to share her survival story. The two have brought us a brilliant exposé filled with terror and love on the same page.
"Waking the Bones is intense with familiar images of everything that ever happened to everybody, or almost did. It is a biography of man and woman, mother and father, daughter and siblings. It is universal in scope even though it is a singular voice. It is ever a chameleon, changing mode, tone, and color despite its diminutive size. It should be required reading for all psychiatrists, counselors, and those afflicted with even the slightest mental illness.
"Waking the Bones puts salve on wounds just by existing as a literary accomplishment. A very important book for Kirschner, but equally important for readers everywhere. It's a reality show of the highest order. Read it and be changed."
~Alessandra Domina

"Knowing Elizabeth first as a poetry teacher and mentor, this book tells a story I could not have envisioned. This memoir reveals her deep struggle to overcome a traumatic childhood with such courage and precision that it made me cry each time I picked it up. She articulates with such original and telling imagery—her mother's legs being as thin as fiddle bows, her heart, a speck floating in a fertile egg—bathing the text in a beauty that contrasts starkly with both the inner and outer world she describes. She has indeed triumphed with her life at her beloved Sea Cabin at Spruce Cove. I had already signed up for her memoir class before I read the book, for mid-November. Now, I wonder if I will be up to the task of writing my memoir, of being able to be as vulnerable and authentic as she has been with this brave book. Of course, that is the challenge of all poets and writers. Otherwise, why bother?"
~Patricia Savage

"Elizabeth Kirschner's Waking the Bones is a blend of poetry and prose in tantalizing proportions. Her voice and story are compelling and engross so fully that it is hard to put the book down. I had heard a part of this memoir read at Fairfield University; that part was unforgettable, and now the complete memoir unfolds into a structural whole. Kirschner is honest, thinks things over, reconsiders, looks at many sides. She gives insights into the harm people do to one another. Her survivor spirit soars above the memoir, offering hope and communion."
~Wendy Hoffman, author of White Witch in a Black Robe: A True Story about Criminal Mind Control and The Enslaved Queen: A Memoir about Electricity and Mind Control
Please enjoy this excerpt from Waking the Bones:
When I get to the Rock River, the night is licorice-black with a flinty after-bite of anise. Snow incubates more snow until each flake of its veritable thousands feels like a talisman. I long to stuff my pockets with these talismans as though they, like love, wouldn't vanish upon touch, but I'm searching for a human shape, albeit a wretched one, Mom.

In this barrage of snow-mirage along the Rock River, I call for her—a golden, shadowy call that the wind gulps down. I call for her again, golden, shadowy, while padding the air with my hands, as if to strip-search it for the wretched human shape that is Mom.

I get desperate. The licorice-black night is getting blacker. The veritable thousands of bits of snow are maxing into millions. Feverish with flinty cold, I cry out, "Mommy, where are you?"

Groping in the snow-mirage, I cry again, "Mommy, where are you?" Has she fallen into the river, the one she walks along with the Walky-Talkies, the one I, too, walk along with her and the Walky-Talkies? Is she wearing the official Walky-Talkie sneakers with the florescent-orange shoelaces that glow-in-the-dark?

All that's glowing in this mineral darkness are the maxed-out millions of snowflakes. These maxed-out snowflakes are brilliant, precocious as the Little Bits I once was. They seem to burn as they fall, like white fire. I'm afraid that this brilliant snow, this white fire, will ignite Mother. Or will my own white fire ignite her?

It doesn't. I make her out, stumbling like an old bear in the blizzard-fire. She's blindly pawing the precocious bits of maxed-out snow, the way I'll remember how Dad pawed me, as though I were a trench full of the darkest honey.

When I get closer, I hear Mom screaming. "Demons are attacking me," she yells, "get the demons off of me."

I yell back, "there are no demons."

She screams more, "The demons are in my hair." She paws at them, blindly, screaming, "they have red-and-black reptilian wings, are attacking full throttle."

"There are no demons," I yell, "I'm coming to get you."

When I get to her, I shake her. I shake her hard: is Mom so drunk she thinks demons are attacking her? I don't know, can't, until long after her ghastly death, her demons come to get me.

I shake her so hard, she's dazed. Dazed, she shakes her head, like a boxer. Is she about to go down? Does she hear my grandfather's count? Mother doesn't go down. Instead, she leans against my thin body, dizzied by the years-long blizzard in her dazed head.

"Baby steps, Mom, just take baby steps," I whisper. When she does, I realize I'm walking the Mom, baby step by baby step, in a sad pas de deux. Yes, I'm walking the Mom through all the darkness, cold and snow, step by step, in a sad pas de deux. I'm walking her through the years-long blizzard in her head while walking through the years-long blizzard in my own dazed head. We're both walking with winter, but I don't know it yet. We'll walk with winter until, baby step by baby step, we walk all the way home.