Charlotte Lit Annual Lit/South Awards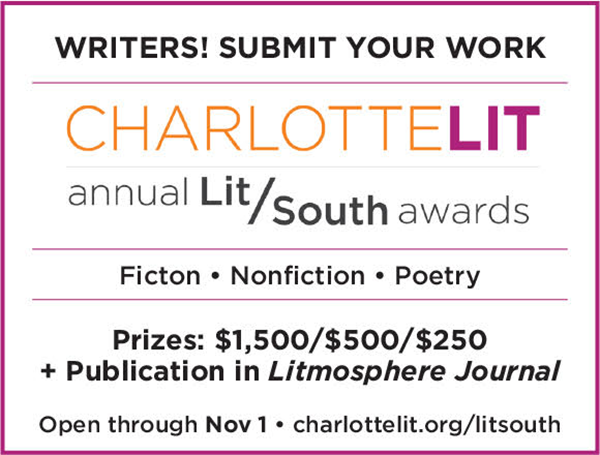 Deadline: November 1, 2022
Open to current and past residents of North Carolina, South Carolina, Georgia, Tennessee, and Virginia. Three categories: poetry, fiction, and nonfiction. All winners and honorable mentions will be published in the Spring 2023 issue of Litmosphere: Journal of Charlotte Lit, and receive prizes starting at $1,500 for first place. Guidelines & final judges:
• Nonfiction (up to 4,000 words): Melissa Febos, author of Body Work, Girlhood, and Whip Smart
• Fiction (up to 4,000 words): Bryn Chancellor, author of Sycamore and When Are You Coming Home?
• Poetry (1-3 poems, up to 5 total pages): A. Van Jordan, author of The Cineaste and M-A-C-N-O-L-I-A.