Bellingham Review's Annual Literary Contests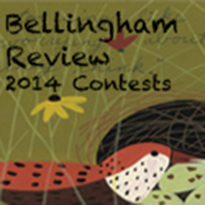 Deadline: March 15, 2014
Three $1,000 prizes and publication in Bellingham Review are awarded for works of poetry, fiction, and nonfiction. Finalists will be considered for publication. The 49th Parallel Poetry Award is given for poetry; Kathleen Flenniken will judge. The Tobias Wolff Award for Fiction is given for a short story; Shawn Wong will judge. The Annie Dillard Award for Creative Nonfiction is given for an essay; Joy Castro will judge. Submit up to three poems or one prose piece up to 6,000 words with a $20 entry fee ($10 for each additional entry); this includes a subscription. Visit the website for complete guidelines at http://bhreview.org/contest-submissions-guidelines/
Please enjoy this poem by Jane Satterfield, winner of our 2013 49th Parallel Poetry Award:
Elegy with Trench Art and Asanas
by Jane Satterfield

The studio door swings shut and Emily instructs us
to begin in an easy seated position. Eyes closed, we begin

to check in, to be mindful of each feeling that rises. Time
to think of some intention, something as simple

as the reason that brought you to your mat—that, not the noise
rising up from Stoneleigh Lanes, the business at basement level—

thunderous, I think, though nothing next to the volley of
shellfire and mines going off in the front's busier sectors—

strange sound track stuck in my hearing long after
I left the museum's cool halls, since I walked the wood

planked trench alleys of the Great War Exhibit. Overhead,
dangling on cables above us, the artifact highlights—Fokker,

Sopwith, and Albatross; a shiny Pfalz acquired as part of Allied
War reparations—great flying machines manned by pilots

in both strategic bombing and battlefield recon runs.
But I'm here, now, to take in and tune out the noise of summer

camp duckpin party cheers, the detritus that lingers
in modern memory from a war so literary de-lousing

was known as reading one's shirt…. Trikonasana's next to
strengthen the core: your ribs drop into the body's

fuselage. A deeper bend into the archival absence of cordite,
the scent of rust that still rises, post-rainfall, from the soil

of stricken villages across the French countryside.
In almost any of the English market towns I visited as a child,

my grandfather said to take notice when we reached the town
center—each marked by a concrete cenotaph, memorial

to lost fathers, sons, uncles, brothers, and fiancés. You might
find a stray paper poppy lifted, then dropped by the wind.

Emily advises us to find your edge. Boredom was just one of
many unspeakably awful trench conditions—and the lull

between morning stand-to and evening assaults mean anyone
might be taken out by a sniper's precisely aimed bullet. The efficiency

of England's postal service meant letters arrived with stunning ferocity,
making home seem distant yet paradoxically near. In situ,

soldiers chalked rocky outcrops; carved rings, crosses or
pendants using spent bullet casings; lighters might be fashioned

from greatcoat buttons. In Tadasana, the yogi seeks strength
from the earth, each breath a means to recharge so long as

it's kept as an active position. The more elaborate work that's found
up for auction these days—a shell-casing vase with the image

of two wounded tommies approaching Dover's white cliffs
with the word Blighty hammered out gently beneath—would have

been the handiwork of blacksmiths or engineers in rear areas,
valuable based on who signed it, when, and where. The lamp

my daughter noticed displayed in the Believe It or Not Odditorium,
(your "drop-by for a dose of weird")—was probably scrap,

surplus repurposed post-battle or ready-made by locals (one man's
meal ticket; another's battlefield souvenir). My illustrated history

tells me each war is ironic because each one is worse than expected, though
this does not explain why we sustain, every few years at a time,

a renewable fashion for military chic. Dad was what? Ten, maybe
twelve, playing ball, when he lost the ring his father brought home,

something carved from the wing of a downed Messerschmitt.
How did his old man get it and where? When pressed

for more info on souvenir swag, when asked to decipher the image
code of badges or slogans on t-shirts from Gulf One squadrons

my father passed on to his sons, there's not one I remember.
My husband jokes that I'm either playing dumb or don't

want to recall. To face the fear that darkens each day,
I've been told I need to learn, really, to breathe.

This studio runs sessions guaranteed to get me up off the ground.
Slung in a hammock over a mat—that's one way

to target areas for maximum results. With an amazing
power to cleanse, this is something more than (though it

resembles) circus-based aerial art. Across generations, panic's
rarely made pretty—but what of those vases, hammered

from artillery shells, the designs almost totally obliterated
thanks to assiduous dusting? In Shavasana, we seek sensory

withdrawal, an entry into deeper meditative states. After, of
course, we must rise again to collect our things, walk past

the salons and boutiques that line this block, walk back
into our separate worlds. Sometimes we stop in the bakery

to pick up a coffee, trying not to flinch at the giant screen TV
with its flashing, disastrous crawl.