COG Page to Screen Awards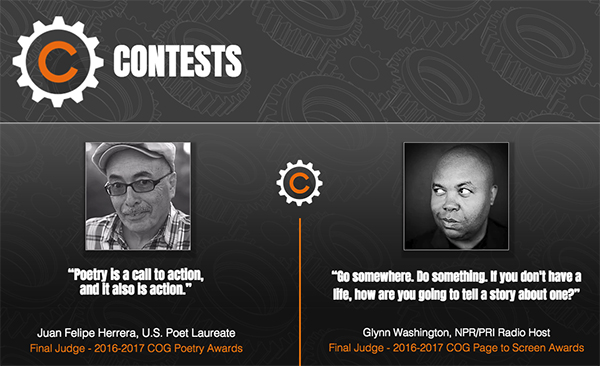 Deadline: March 31, 2017
Sponsored by Cogswell College. Submit an unpublished short story or work of creative nonfiction, up to 7,000 words. The winner will receive:
Publication online and in the print issue of COG, as well as a $1,000 prize
A blurb about your short story by NPR/PRI's Snap Judgment host Glynn Washington
Your story adapted as an animated short film, 2D animation, graphic novel, or series of interpretive illustrations by students in Cogswell's celebrated Digital Art & Animation Program and Digital Audio Technology Program.
Check out the details—including a link to the full submission guidelines—at www.cogzine.com.
Please enjoy this animation made from "The Last Gun" by Anne Harding Woodworth, a 2015-2016 COG Poetry Award winner: