New Letters Literary Awards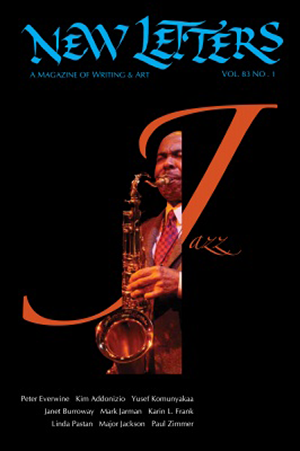 Deadline May 18, 2017
New Letters invites you to submit fiction, essays, or poetry to the New Letters Literary Awards. Winners receive $1,500 for best essay, $1,500 for best poetry, and $1,500 for best fiction, and publication in New Letters.
All entries are considered for publication and must be unpublished. Winners will be announced mid-September 2017. Essay and fiction entries may not exceed 8,000 words; poetry entries may contain one to six poems. $20 (postal mail)/ $25 (online) for first entry; $15 (postal mail)/ $20 (online) for each entry after. $20/$25 entry fee includes a one-year subscription to New Letters.
Previous judges have included Philip Levine, Joyce Carol Oates, Rishi Reddi, Mary Jo Salter, Carole Maso, Cornelius Eady, Margot Livsey, Benjamin Percy, Robin Hemley, and Kim Addonizio. For complete guidelines, visit http://www.newletters.org/writers-wanted/writing-contests, or send an S.A.S.E. to Ashley Wann, Contest Coordinator, New Letters, 5101 Rockhill Road, Kansas City, MO 64110.
In 2007, Winning Writers editor Jendi Reiter interviewed Robert Stewart, editor of New Letters, for insights to guide contestants. Here are excerpts:
Q: Does New Letters place more emphasis on representing the mainstream of contemporary American writing, or discovering the avant-garde? How would you define those terms? What relevance, if any, do they have for writers today?
A: Robert Frost said that the study of literature is one of the few areas in life where one is asked to exercise taste and judgment. My taste runs toward fiction, poetry, and essays that care about the emotional and spiritual dilemmas of human beings. That statement will suggest to some readers here that we want conventional sentiment, which is out of the question. We want eccentric and innovative writing. However, I notice a tremendous amount of published writing in journals that falls more toward the so-called lyric essay, language poetry, or postmodern fiction. The truth is, I like all of that in principle; but I need to see how it matters on a human level. If it seems like mere typographic game playing, or word games, I respond less well to it.

New Letters has published a great deal of writing by people clearly thought of as among the avant-garde today, including Debra Di Blasi, William J. Cobb, and Lance Olsen. I grab it when it's fresh, exciting, and makes an authentic claim on the human experience. I published a long poem once that I did not understand at all on a literal level. I just knew it was engaging me in a sparkling and surprising way. I took a chance and published it, and the poem has since won two national awards.

Q: Are there topics, styles or cultural perspectives you'd like to see more of in the submissions New Letters receives? Any that you'd like to see less of?
A: I wish I could remember who said, Don't tell me about your sad and lost childhood. Maybe that. However, I think it's a bad idea to restrict any topics. New Letters does not usually make editorial decisions based on topic but rather on the quality of the writing. A great part of our mission is to publish writing that advances the art, that uses language in a fresh and exciting way. Subject matter influences how that looks, of course, but a good subject—I want to tell all those cover-letter composers—won't sell the work. I would like to see more writing come to us with a social or environmental consciousness. Much of that kind of writing does turn to polemic, sadly, but I also think it's worth trying to discuss the crises in the world. We did run a powerful essay by Wendell Berry called "The Way of Ignorance", about the environment and politics; we have run other work along those lines, as well.
Q: What do you wish contest entrants would understand about New Letters before submitting their work?
A: Voice. If they write their stories, poems, essays by stringing together conventional phrases, they are unlikely to make the finalist batch. Preliminary judges want to discover a voice that sounds fresh, authentic, driven.

Q: Who are some of your favorite authors (classic or contemporary) that deserve a wider readership than they've received? What can today's writers learn from them?
A: I think the New York translator and critic Eliot Weinberger should have a wider readership, although he has several books of essays from New Directions. He strips his essays of hype and sentimentality, and every sentence moves forward more information. I think, believe it or not, Henry Miller remains under-appreciated in this country. He's still known for writing about sex, but read his nonfiction; he's one of the most spiritual, uplifting, tough-minded and self-critical writers I know.