Oprelle Masters Poetry Contest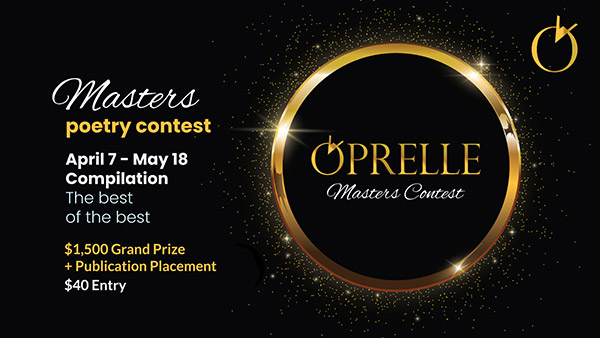 Deadline: May 18, 2021
The Oprelle Masters Poetry Contest is an exclusive contest for previously published authors with at least one writing/poetry award. The 2021 Masters Contest is the first top-tier contest offered by Oprelle Publications LLC. Five authors will get to showcase up to 20 of their personal works in a Poetry Masters Anthology. Winners receive a Crystal Trophy, a featured position on Oprelle.com, and $1,500, $1,000, or $500 in cash, plus one or more copies of the anthology with their picture, biography, and inspiration inside. Entry fee: $40.
See the complete guidelines and enter here.
Oprelle's mission is to share the works of those who are growing and rising in the poetry, art, and written word industries. Through ongoing contests, we provide resources and exposure for poets, artists, and authors. We hope to not only provide these opportunities, but to inspire new talents to press forward with their extraordinary gifts.