Oprelle's Holiday "COMING HOME" Poetry Contest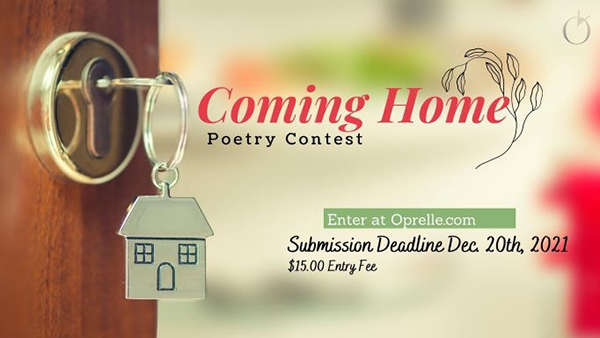 Deadline: December 20, 2021
What does home look like to you? Is it an old farmhouse, a certain person, a childhood bedroom, a river you run to? Think about when you feel most rooted. Where in the world do you feel most at peace, most yourself? Write a poem that takes us there with you.
A home doesn't have to be a building with four walls. It can be a state of being. We want to know what exactly "home" means to you!
First Prize: $200, poem published on oprelle.com, certificate
Second Prize: $100 and certificate
Third Prize: $50 and certificate
The contest is open to anyone age 14 and up who writes poetry. Parents and guardians may submit on behalf of children who are 14-17. Each poem must have 1-20 lines (220 words maximum). Entry fee: $15 per poem. Submit up to two entries. Judge: Susan (Manchin) Dines. Learn more and submit via Submittable or by mail.