Snake Nation Press: Contests for Poetry and Fiction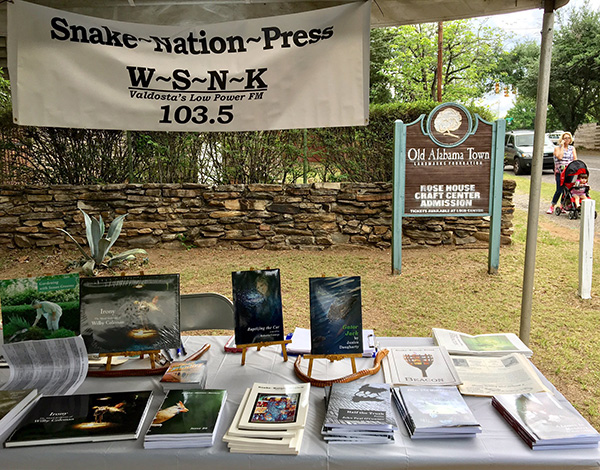 Deadline: August 31, 2017. Submit electronically or by mail.
Violet Reed Haas Prize for Poetry
$1,000 award and publication
Entry fee: $25
Submit a manuscript of up to 75-100 pages
Previously published works may be entered
Serena McDonald Kennedy Fiction Award
$1,000 award and publication
Entry fee: $25
Submit a novella of up to 50,000 words or a manuscript of short stories of up to 200 pages
Any well-written manuscript on any topic will be considered
Previously published works may be entered
We are proud to announce that Rupert Fike of Georgia has won the 2016 Violet Reed Haas Prize for his poetry collection, Hello the House, and Tom Benz of Chicago has won the Serena McDonald Kennedy Award for his collection of short stories, Home & Castle. Please enjoy these selections from the winning entries:
Before Prayer
by Rupert Fike

When we presume to ask God for favors
there's never much doubt we're interrupting
serious business already in progress—
refugees on rafts, malignancies,
that child down a well in Sardinia—
the deity's inbox always awash.

Yet to refrain from supplication,
isn't that somehow worse, to constrain
ourselves from our hard-wired need
to whisper, Dear Lord, could you please listen...
For we all need help. We all need our clammy hand
held the way Virgil took Dante's as they
descended past all manner of sinners,
past poor Socrates condemned to Limbo,
an innocent forever misplaced
for the not-crime of being born centuries
before someone else. And sure, that wasn't fair,
but Dante had no choice—the Church
had already shown him the stake,
its dried stack of kindling at the ready.
Plus Limbo wasn't really Hell, it was more
business-class for eternity, all those
pretzels and weak Bloody Marys distraction
enough to stop our pouty why-mes
that are sometimes charming but mostly not.
And in this way we're all like Socrates,
born too early for visions we will miss—
like the rescue mission from some friendly
galaxy when they see our place on fire.
That will change all prayer. But we'll be gone.

In his last month my father told me,
I want to stick around, see what happens next.
And though I knew his pancreas was shot,
and that he'd become terminally angry
with a world he no longer understood,
I just said, Hang in there. I held his hand.
Here's an excerpt from "Casual Impostor" by Tom Benz:
Though he didn't usually keep count, over the past couple years, Blake was sure he had been mistaken for someone else at least six times. Throughout his adult life, this had happened and lately the phenomenon seemed to have accelerated. It occurred in train stations, supermarkets, baseball stadiums, anyplace where hordes of people converged, where the odds of running into someone you recognized was exponentially increased by the numbers. It was as if there was some generic quality in his face, a kind of template that enabled people to see long lost friends, classmates and colleagues who still generated a faint signal in the recesses of memory. He seemed to emit some invisible current that called out to strangers.