The Gulf Coast Prize in Translation for Poetry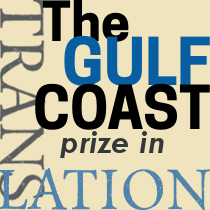 Deadline: August 31, 2016
Gulf Coast is now accepting entries for the 2016 Gulf Coast Prize in Translation for Poetry. Send up to ten pages of poetry translated into English. Submit online or by mail. Click for the complete guidelines.
Established in 2014, the contest awards its winner $1,000 and publication in the journal. Two honorable mentions will each receive $250. All entries will be considered for paid publication on our website as Online Exclusives. The entry fee includes a one-year subscription to Gulf Coast.
This year's contest will be judged by Idra Novey. She is the author of the novel Ways to Disappear, selected as a New York Times' Editors' Choice. Her most recent poetry collection, Exit Civilian, was chosen by Patricia Smith for the 2011 National Poetry Series. Her translations include Clarice Lispector's The Passion According to G.H. and Birds for a Demolition, the Selected Poems of Manoel de Barros.
Please enjoy this excerpt by the winner of our 2015 prize, Samantha Schnee, who translated El complot de los Románticos by Carmen Boullosa.