Collateral Damage: A Triptych - Stories by Soma Mei Sheng Frazier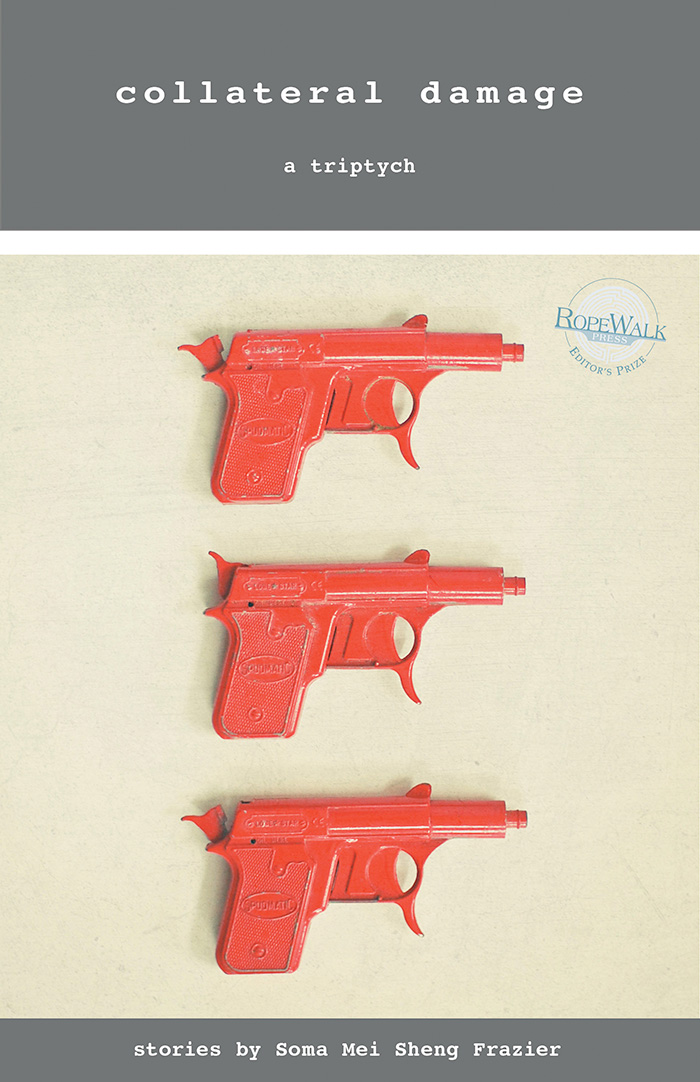 Swagtastic Praise for Collateral Damage: A Triptych
winner of the RopeWalk Press Editor's Fiction Chapbook Prize
Harsh and beautiful, yearning and deadly, the stories of Soma Mei Sheng Frazier will remind you of nothing less than the whole wide world.
—Daniel Handler, author of the Lemony Snicket series and other books
Brilliant is a word usually associated with diamonds therefore this is the appropriate word for Soma Mei Sheng Frazier who writes like a young Toni Morrison: clear, clean yet heart skipping for all the things she is not telling. Crisp. Deliciously enticing as the story unfolds. Soma is a wonderful writer on the rise. Perhaps I should have started this story with the first star of evening, visible to our planet but harking of another shore, lighting our sky. We walk the beach with her. And the tide pulls the diamonds to our hands.
—Nikki Giovanni, author named one of "25 Living Legends" by Oprah
Collateral Damage introduces a brave, compassionate writer unafraid to look closely at the unintended yet far-reaching consequences of war. The narrators in this triptych couldn't be more different from one another, yet each of their voices is equally clear, equally memorable—"bringing the news from one world to another," as Raymond Carver said, in a movingly human way.
—Sarah Shun-lien Bynum, The New Yorker's 20 Under 40 author
Reading these stories is like stepping into a mine field—there is a sharp sense of danger and quick little explosions of pain and poetry, hurt and healing, on every page. These are war stories, brilliantly lit with insight and compassion.
—Molly Giles, prize-winning author of Rough Translations and more
This set of stories beautifully captures the unavoidable ripple effect of violence that war inflicts upon its (distant, unintended, secondary) victims. Ordinary life, and lives, also suffers the after-shock, leaving the living guilty and grief-stricken and hard-pressed to name themselves 'lucky'. A very powerful triptych from a writer to watch.
—Antonya Nelson, named one of the 20 best young fiction writers in America today by The New Yorker
Order directly from RopeWalk Press: https://www.usi.edu/ropewalk/ssl/purchase.asp
$1 from every book sold supports First Place for Youth: an Oakland-based nonprofit providing intensive services to foster youth at the critical juncture when they "age out" of the system.
Soma Mei Sheng Frazier is an East Coast Native living in the San Francisco Bay Area. She was Editor of the late COG Magazine. You can find her work online at Eclectica Magazine, Carve Magazine, and Hyphen Magazine. New work is forthcoming in a second little prose chapbook to be published in March by Nomadic Press, as well as in Glimmer Train and ZYZZYVA, while Soma completes a novel and a screenplay.