DECEMBER Magazine: Jeff Marks Memorial Poetry Prize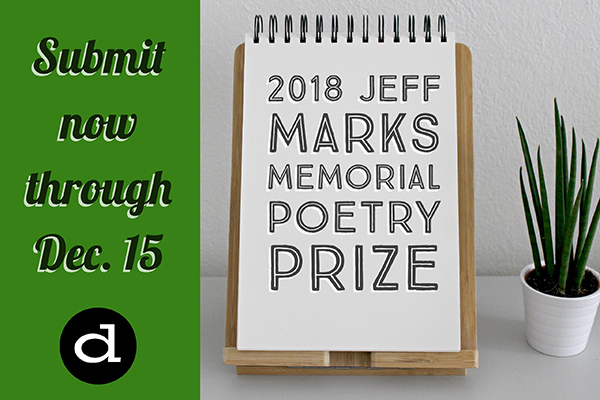 Deadline: December 15
Judge — Luis Rodriguez is an American poet, novelist, journalist, critic, and columnist. He was the Los Angeles Poet Laureate from 2014-2016.
Prizes — $1,500 & publication (winner); $500 & publication (honorable mention); all finalists will be published in the 2018 Spring/Summer awards issue. Finalists will be paid at regular contributor rates.
Submit up to 3 poems online or by mail. $20 entry fee includes copy of the awards issue. Please submit previously unpublished work only. Any size print run or online publication (including blogs and/or social networking) disqualify an entry.
For complete guidelines please visit our website.
december magazine was founded in Iowa City in 1958 by a group of poets, writers, and artists who declared, "We are humanists…far more concerned with people than dogmatic critical or aesthetic attitudes." december was a pioneer in the "little" magazine and small press movement, publishing cutting-edge fiction, poetry, non-fiction, and art. Its pages have included Donald Barthelme, Marvin Bell, Stephen Berg, Rita Mae Brown, Raymond Carver, Stephen Dunn, Donald Hall, Michael Harper, Donald Justice, Ted Kooser, Philip Levine, Joyce Carol Oates, Marge Piercy, William Stafford, C.K. Williams, Charles Wright, and James Wright.
Relaunched this decade by Gianna Jacobson, december continues its original mission—publishing exceptional, thought-provoking poetry, prose, and art; championing the work of unheralded writers and artists and celebrating fresh work from seasoned voices; and promoting and advocating for december's writers in the literary and general communities.